Bulk Hand Sanitizer & Wholesale Hand Sanitizer
Hand Sanitizer in Bulk and Wholesale from Jayne Products 
Jayne Products offers liquid and gel hand sanitizers in bulk and for wholesale.
One is the liquid WHO-approved formula at 80% alcohol,
The other products come as a gel or liquid at 70% alcohol. These products use USP Grade or Food Grade ethanol.  It easily exceeds FDA standards. This hand sanitizer is unscented because there is no bad odor to mask. It smells like rubbing alcohol.
Buying hand sanitizer in bulk allows for the refilling of dispensers in schools, gyms, offices, restaurants, and other private/public areas, as well as for resale purposes.
These different hand sanitizers can satisfy the guidelines for:
Jayne Products offers Hand Sanitizer in Bulk and Wholesale in the following quantities:
Hand Sanitizer Tanker Truck (7000 gallons)
Hand Sanitizer Drum (55-gallon drum) 
Hand Sanitizer Tote (275-gallon tote) 
Hand Sanitizer in 1 gallon (27 cases, 108 gallons total on 1 pallet)
Hand Sanitizer Case (4 gallons/case)
Mini Hand Sanitizer Bottles Bulk MOQs:
Great as travel size hand sanitizer, pocket hand sanitizer, or personal hand sanitizer for bulk or wholesale
1.7 oz- 48 units per box; 286 boxes per pallet = 13,728 per pallet
4 oz- 24 units per box; 126 boxes per pallet =3,024 per pallet
8 oz- 24 units per box; 63 boxes per pallet = 1,512 per pallet
16oz- 24 units per box; 63 boxes per pallet = 1,512 per pallet
32oz- 8 units per box; 52 boxes per pallet = 416 per pallet
128oz- 4 units per box; 52 boxes per pallet = 208 per pallet
*If interested in white labeling with your logo, please let us know.
Benefits of hand sanitizer
Requires less time than washing hands
Hand sanitizer is the perfect addition to or occasional replacement of handwashing with soap and water
Quickly kills microorganisms on hands
Helps to reduce bacteria on hands
Great for group settings, without having to leave the area to wash hands
Hand sanitizer can be portable and be more accessible than sinks for washing
Can be less irritating to the skin than washing hands
What is a hand sanitizer?
Hand sanitizers can vary, including alcohol-based versions which can include ethanol, alcohol, or n-propanol, and have different levels containing 60% to 90%, the higher the more effective. These hand sanitizers can come in foam, gel, or liquid versions and can work on a variety of microorganisms and bacteria, as well as the flu, cold, and coronaviruses.
Is hand sanitizer effective against COVID-19?
"If soap and water are not available, CDC recommends consumers use an alcohol-based hand sanitizer that contains at least 60% alcohol."
According to the FDA and CDC:
https://www.fda.gov/drugs/information-drug-class/qa-consumers-hand-sanitizers-and-covid-19
How to best use hand sanitizer
Remove all organic and visible matter from hands.
Apply a small amount of hand sanitizer to palm.
Rub hands together covering all areas of hands/fingers.
Rub hands together until sanitizer is absorbed and hands dry.
Product Labels
WHO approved formula, 80% Alcohol (liquid):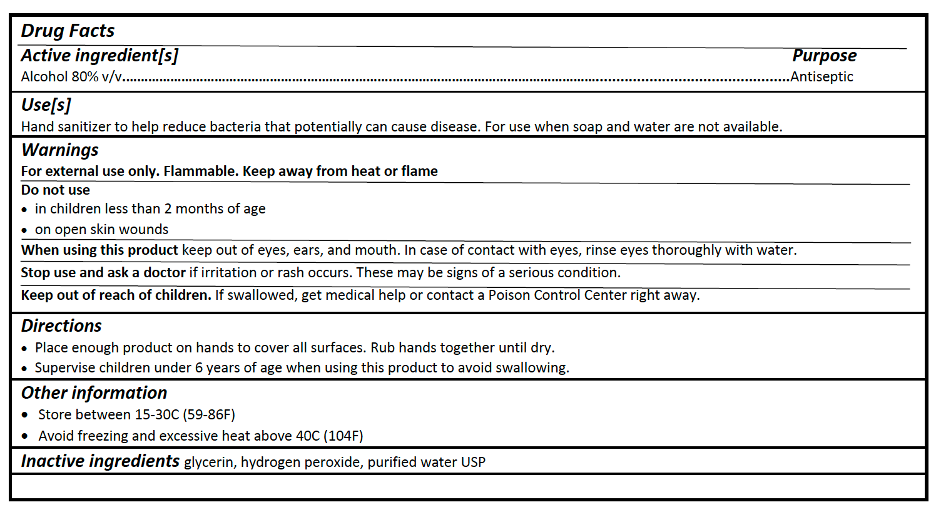 Liquid / Gel Formula 70% Alcohol